Many of us dream of straighter teeth and are conscious about our smile. Think about it, Do you cover your mouth when you laugh?
Modern orthodontics can now enable you to straighten your teeth with neat clear or invisible brackets. Your treatment may even be faster than conventional brackets. Remember, straight teeth are also more healthy as they prevent food getting trapped and your bite is properly aligned preventing excessive tooth wear often seen in people with crooked teeth.
CLEAR ALIGNERS
Impressions are taken of your teeth and a set of invisible aligners are custom made to move the teeth in its new position. Each set is worn for 4 to 6 weeks according to the prescription of your dentist.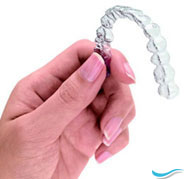 6 MONTHS SMILE
These are hardly visible clear brackets that are worn for approximately 6 months to bring the teeth into alignment.


Your dentist will assess you with regards to your suitability to these treatments. Please get in touch with us to know more.